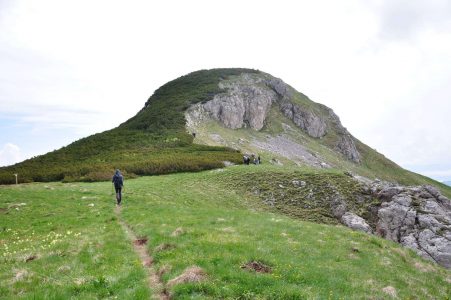 Crna Glava is the highest top of Bjelasica which is covered with forest. It is at 2139 m a.s.l.
It was named (Crna Glava is literally translated as Black Head) after Mountain Pine which is dark green in color, therefore looks black from the distance. From Crna Glava, there is a magnificent view towards the territory of four municipalities: Kolašin, Mojkovac, Berane and Andrijevica, and Big and Small Lake of Ursulovac, Lake of Šiško, and Lake Pešić. Also, from this top, you can see most of Montenegrin mountains (Komovi, Prokletije,  Kuč Mountains, Maganik, Morača Mountains, Vojnik, Sinjajevina, Durmitor, Ljubišnja, Hajla), and also, you can see the slopes of Kopaonik and Zlatibor.
There are paths leading from Crna Glava to Jeterine, Lake Ursulovac and Dolovi Lalevića.