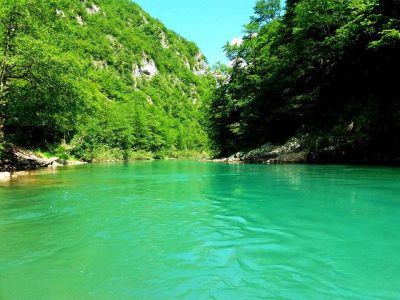 Fishing
Fishing in Montenegro represents a true treat and unforgettable experience for all those who enjoy in its natural beauty, large quantity of various fish species, and attractive locations. As part of these tours, you can enjoy in fly fishing at most attractive locations all around Montenegro, which, by its characteristics, complete the experience and leave lasting memories. Locations included in tours are: Tara River, Mrtvica River, Morača River, Lake Biograd, Black Lake, etc.
Fishing on Tara River
Tara River, known as "The Tear of Europe", because of its extremely clear water, is rich with various fish species. Having in mind that fishing is happening in the area of National Park Durmitor, and that Tara River Canyon is the second largest in the world (the highest point of the canyon is at 1300m), in combination with wild, untouched nature and wonderful landscapes,  converts fishing into a true adventure. Fishing on Tara River is allowed only using artificial baits. The most common species of fish are: river trout (typical size 0.5-5 kg, maximum 10 kg), huchen (typical size 15-20 kg, maximum 40 kg), and grayling (typical size 0.3-2 kg). Fishing on Tara River is conducted in three areas:
Fishing ban – destination Kolašin, downstream Tara River in the length of 6 km.
Fishing outside the ban – destination Kolašin-Mojkovac in the length of 30 km.
Fishing in Durmitor National Park
Fishing on Morača
Morača Canyon, 38 km long and 1050 m deep, is a true challenge with its beautiful landscapes, flora and erosive shapes. All of the aforementioned combined with a magnificent river provides with an ideal fishing experience. The river itself is rich with river trout, grayling, and huchen (especially the capital type – marble trout). Because of the distance, there is transportation by jeeps organized. It can be conducted through camping or jeep safari. Fishing is allowed only using artificial baits (lures, flies).
Fishing on Lake Biograd
National Park Biogradska Gora covers the area of 5650 ha, and it is consisted of a rainforest and lake. The rainforest covers the surface area of 1600 ha, and it is one of only two remaining rainforests in Europe. It has 86 tree types, 20% of which are endemic species of the Balkans. In combination with Lake Biograd, which is of glacial origin, which is known as the most beautiful lake in the Balkans, located at 1094 m a.s.l., 1100 m long, and approximately 4.5 m deep, it is not only a beautiful and calm spot for fishing, but a sort of a reserve of earthly beauty, and vacation for all of your senses. The lake is located 18 km away from Kolašin. The tour includes jeep transportation, and it can be organized in combination with camping. The lake is rich with trout (rainbow trout, lake trout, river trout, and brook trout). Fishing is allowed using only artificial baits (lures, flies). Fishing is allowed from 01/05 to 22/06, in the period between 7AM and 7PM, on fishing days: Tuesday, Sunday, and national holidays. It is allowed catching only up to 4 trout.