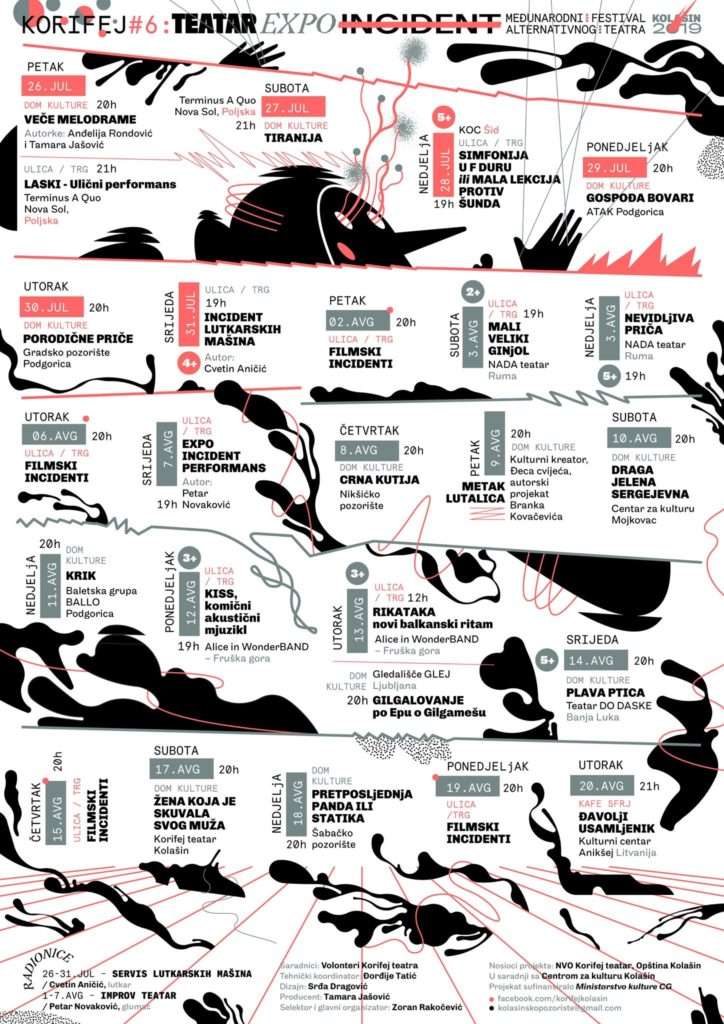 International Festival of Alternative Theatre "Korifej" is held in Kolašin in the period between mid-July, and mid-August. The festival is co-financed by the Ministry of Culture, which is a kind of a guarantee for festival's existence in the future. It is organized by the Municipality Kolašin and NGO "Korifej Theatre", which how the theatre life in Kolašin functions.
The main idea is to show as many events in public places, such as streets and squares, as well as alternative locales and environments.
The festival had representatives from Sweden, France, Poland, Ukraine, Russia, Spain, Czech Republic, Slovakia, Estonia, Lithuania, Serbia, Croatia, Romania, Bulgaria Hungary, Slovenia, Kosovo, Bosnia and Herzegovina, and Montenegro. The selection of foreign theatre shows is both rich and diverse in terms of genre, and what it makes it special is that the they are created by the means of universal language – movement, mimicry, pantomime, non-verbal gesture, body theatre, and so on – in short, there theatre shows are accessible are easily understood by the local audience.
Also, projects of the Faculty of Dramatic Arts from Cetinje were often seen on the repertoire. Theatre shows for children are an important part of the program, as well as workshops for children and the youth, and everyone wiling to learn something new through playing, having fun, and creative processes. In the past period, workshops on acting, dramaturgy, directing, puppetry, graphic design, painting, were conducted by the people famous in terms of regional theatre: Ferid Karajica, Anđelija Rondović, Ljubomir Đurković, Jelena Đukić, Cvetin Aničić, Jovana Bojović, Mirjana Šajinović, Aleksandra Blagojević, Lela Milošević, Milena Vukoslavović, etc.
The film program is edited by the director Sead Šabotić. The audience has an opportunity to watch the best student films, as well as socially engaging documentaries. Films are broadcast at open locations. In the previous years, this program also included art exhibitions (Srđa Dragović, Snežana Bulatović).
The designer in charge at Korifej is Srđa Dragović, Đorđije Tatić is a technical coordinator, and both the director and employees of the Center for Culture Kolašin take part in organization. Their participation is a great advantage. The festival is supported by the Kolašin's Friends Society, Tourist Organization Kolašin, and townspeople. Tamara Jašović is in charge of the production, whereas Zoran Rakočević is a selector and main organizer.