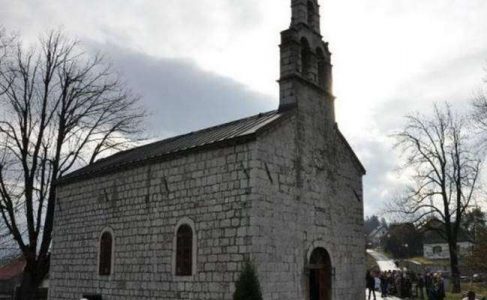 During the rule of Ottoman Empire, the Orthodox population in Kolašin had a church in Smajlagića Polje, and they were buried around that church. Today's town cemetery was later on established around it. The church was destroyed by the Turks, and its remains were discovered by the Russian scientist and publicist Pavel Rovinski, during his visit to Kolasin in 1886.
By the Decisions of the Berlin Congress in 1878, Kolašin became part of Montenegro, which gained international recognition. Since in town itself there was no church at all at that time, a small chapel, which served as a watchtower in Turkish times, was redecorated and consecrated to be used temporarily. The church was dedicated to St. John the Forerunner. After ten years of service, due to lack of space and deterioration, honoring the tenth anniversary of the liberation from Turks, the church of St. Demetrius was built at the same place, in 1888. In accordance with customs at the time, all conscripts of Kolašin region were involved in the construction of the church which was managed by a battalion commander. First they removed the stones from the old church, one by one, and then they used the same stones in building the new church dedicated to St. Demetrius. They also dug up the hill where the old watchtower was located and used that material to fill in the surrounding dales, thus creating today's plateau. As it is recorded, all the priests of the Kolašin region took part in the church consecration, with a large audience of gathered people including all the distinguished people from the surrounding villages.
The Church of St. Demetrius is a single nave building built of processed stone, with a two-floor belfry and semicircular altar apse. It is a typical representative of the construction period from the end of 19th and the beginning of the 20th century in Montenegro.
Iconostasis, decorated with symmetrically arranged and stylized herb motifs, is one of baroque high iconostasis. In this area they were developed because of the influence of the Russian school. From right to left, in the first zone, there is an icon of the patron saint, St. Demetrius. The icons are made on metal base using tempera painting technique.
With the arrival of the Austro-Hungarian army, the church bell was removed and melted for ammunition. The same happened with bells from the surrounding churches. The inscription engraved in a stone plaque above the entrance says: "This temple of the Saint Great Martyr Demetrius was built by the righteous Montenegrin Duke Nikola I Petrović Njegoš in 1888".