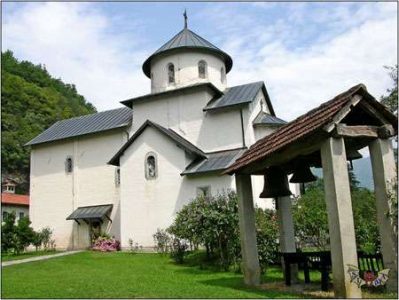 Moraca Monastery is located in Montenegrin town Kolašin. It is located at elevation of 300 meters, on the left bank of Morača River, which is how it got its name. The place it was built on is a natural flatland, and there is a beautiful view of Morača River Canyon from that spot.
Svetigora Waterfall is nearby, it flows into Morača River, and such a natural beauty gives the Monastery a special charm.
Morača Monastery has a very eventful history, and having in mind it was built during the early ruling of Nemanjić Dynasty, it testified to various occurrences. Stefan Vukanov Nemanjić is often mentioned as a ktetor (founder) of the Monastery. He was Vukan's son, and Stefan Nemanja's grandson. The Monastery was built back in 1252.
The entire monastery complex is consisted of two churches – the main church dedicated to the Dormition, and a smaller church dedicated to Saint Nicolas. There is also a dormitory within the monastery complex. Morača Monestary was built in the Raška Style, whereas the main portal was built in the Roman Style. The church was plastered, which makes it a lot different than some Mediterranean churches seen in Montenegro. The monastery complex is surrounded by high walls, with two gates. Stefan Vukanović used a yellow stone to build it. There is a small stream flowing through the monastery yard, then down the rocks, forming the amazing Svetigora Waterfall, which flows into Morača River. Some Serbian monasteries, such as Studenica, Žiča, and Mileševa Monestary, served as models for Morača. The main church is 22.7 meters long, 6.36 meters wide, and its height reaches 23 meters (at the top of the cross). It is tiled with grey marble. Probably the most stunning architectural detail in the monastery is a double leaf door at the entrance to the middle temple, and it is partly made of ivory. Saint Nicholas' church is considerably smaller. It is only 6 meters high, whereas its length and width are both around 5 meters.
Morača Monastery is picturesque, i.e. it is painted with icons.
The Raven Feeding St. Elijah is the most famous fresco in the monastery; it was created in 13th century, as a part of series of frescoes describing the life of St. Elijah the Prophet. In addition to this fresco, other well-known fresco from this period is The Nativity of John the Baptist.
There are also especially beautiful icons next to iconostais, created by the greatest masters of the 13th century. The icons of Saint Sava and Saint Luka are considered most valuable examples of iconography in the Balkans.
There are also relics in the monastery, i.e. Hand of Holy Martyr Harlampy. This Saint is celebrated on 23rd February.