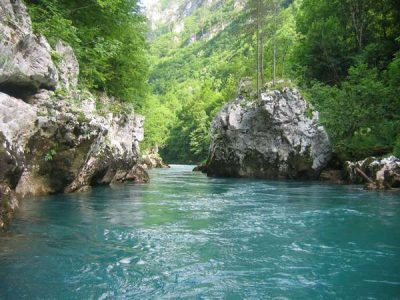 Tara River Canyon is the deepest in Europe, and it occupies a silver – second place on the planet. Only Colorado River Canyon in North America is larger and more famous.
The caynon is 60 km long and its average depth is 1073 m, at some parts even 1300 m. The deepest measured point of this canyon is 1333 m. Tara River Canyon is one of the canyons surrounding Durmitor Mountain and National Park (Tara River Canyon, Komarnica River Canyon, Draga River Canyon, Sušica River Canyon, and Piva River Canon).
Tara River Canyon is an oasis of untouched nature and there are various endemic relict plant and animal species. All of this has caused UNESCO and its Man and the Biosphere Programme to add this emerald jewel to its collection in 1977. A couple of years later – in 1980, along with Durmitor National Park it was put on UNESCO World Herritage List.
There are around 80 known caves in the canyon, all of which are insufficiently explored, and some of them hold evidence of prehistoric life.