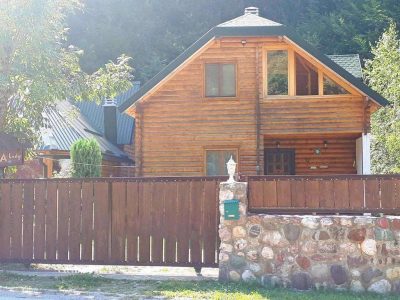 Luxuriously furnished, comfortable Tara Lodge hosue, size approx. 120m2, located next to the road, was designed for relaxation and pleasure for up to 9 adults. Situated in an attractive location of a new weekend resort near two national restaurants, it is 2.3 km away from the city center and only 6 km from two modern ski resorts Kolasin 1450 and Kolasin 1600. It is divided into two levels. On the second floor, there are three comfortable bedrooms as well as a large hallway leading to the closed terrace with a beautiful view of the nearby Kolašin river and the mountains, and the ground floor of the house comprise a large living room, a dining room, a fully equipped kitchen, a bathroom and a terrace for the morning or afternoon relaxation.
It is equipped with all modern technical devices; TV, SAT TV, Hi Fi, DVD player, and there is a dish- washing machine, washing machine, refrigerator / freezer, stove, radiator in every room, hairdryer and other equipment necessary for a pleasant stay. Also, the house is equipped with high quality linens and towels, an anti-allergy program of well-known brands, and all the products for hygiene for the kitchen and bathroom have been provided, to the most tiniest details.
Winter tips are on next page, one of summer's tip – special attraction for tourists represents the Biogradsko Lake located in National park "Biogradska gora" which is one of three preserved virgin forest of Europe. The Biogradsko Lake is at 1094 m of altitude and around it there are walking paths.
BOOKING.COM LINK:  https://www.booking.com/hotel/me/log-house-tara.hr.html
Contact: mail: tarakolasin@gmail.com
Maja, English: +382 69 194-934; +382 67 399993 (Viber, WhatsApp)
Zorica Italian, French +382 67 500537