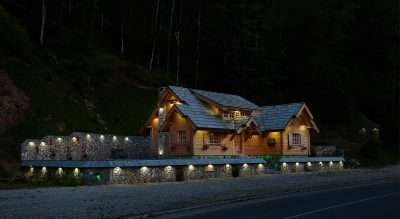 On the 7th km of the road Kolašin-Mateševo, there is a beautiful building, combination of wood and stone, traditional and modern – konoba Amanet. It offers a view into traditional Montenegro, rich menu, and unique experience in the untouched nature of Kolašin.
In our restaurant you can try food prepared according to special recipes, feel at home and feel the spirit of past times. Our kind staff will help you enjoy completely.
Amanet is one of a few restaurants which have proven their name and quality, to which testify praises of our regular guests.
As a part of the restaurant, there is a large summer terrace, which allows displaying of various contect out in the open, which can complete the tourist offer, whereas the enterier is suitable for similar activities indoors during the winter, as the space is adjustable. Remoteness of the location and urban style contributes to visitors' intimacy and forming special contents which are not affected to global and common standards.
As an additional content, we would point out to Čepić Household, which has around 30 beds, and is located on the shore of Tara River and it will soon be opened.
Adresa : Bijeli potok bb
Tel. 068/140- 140