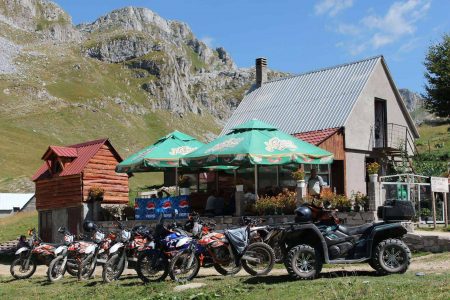 Located in the geographic center of Montenegro the Kapetanovo lake and the surrounding mountains like Moračke, Lukavica, Maganik and Tali have the special place in hearths of people who live and visit this region. Most famous mountain tops are Kapa Moračka(2226m), Stožac(2141m), Orlojevac, Lastva, Nikolin and Ćetkov vrh(top) have the best landscape viewpionts in the area. There is also another mountain hidden treasure called Brnjičko (or Manito) lake on the distance of 1.2km or 40 minutes walking. For this region with its water cappacity long time ago the "old people" said that "it has number of natural springs the same as number of the days in the year". There is also a lot of caves and pits wich is mostly visited and explored by experts and their students. The most famous is Vilina Cave. Also the Mrtvica canyon is another beautiful top visited place in the area.
Our property has the cappacity to host up to 34 people. There is a bungalow for 2 People, 2 rooms more for 2 people each, room for groups up to 9 people and room for group of 8 people. Another weekend house with a 10 people cappacity. The guests have in usage a terrace and minimarket. There is much space for recreation. Guests can enjoy swimming, horse backriding, climbing, bike riding and also who want can do some old-fashioned jobs like cow milking and cheese producing.
Homemade national meals can be found on a everyday menu. People also can buy domestic cheese and cream(called "skorup"), hooney and lot of homemade tea types and juices produced from the local found herbs and fruits.

Adresa: Kapetanovo jezero
Phone: +382 (0) 67/120-202 ; +382 (0)68/816-425; +382 (0)69/228-420
Email: kapetanovojezero1@gmail.com