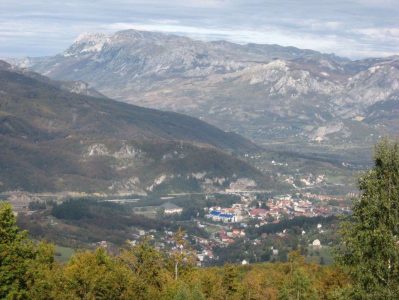 Length: 9.81 km
Start height: 957m
Maximum height: 1311m
The path begins and ends in town center, at Trg Boraca. It goes towards Mateševo. The tour is not long or difficult, but rather pleasant. It provides with different experiences: dense meadows of Bjelasica Mountain and comfortable shades of beech forests. There are various viewpoints, wide views of the surrounding mountains and the town itself. You will see a monument from the Second World War, and also get to know something about karaula (a border post) at Barutana. You will also get an opportunity to contemplate how Kukunovac got its name. The return won't be boring either, because you will constantly pass by houses, and locals are always willing to chat and joke.
If you decide to take a digression, take a turn from the path, because it leads towards famous Ćirilovac Monastery and Dulovine Botanical Garden.
Ćirilovac
In 1999, at the slopes of Ključ in Rečine Village, a monastery dedicated to Saint Cyril and Methodius (Ćirilovac) was built. The temple has a considerable spiritual and religious importance for residents of Kolašin and its surroundings. Above this monastery, at one of Ključ tops, a copy of Njegoš's chapel from Lovćen was built in 2005.
Botanical Garden
At the elevation of 1018 m, there is a unique botanical garden in Montenegro. Set up in 1981, it is the only botanic garden with autochthonous flora species of continental mountains (Bjelasica, Sinjajevina, Komovi, and Durmitor). Today, there are more than 400 plant species, among which a considerable number of endemic species, more than 80% of which are used for medical purposes.