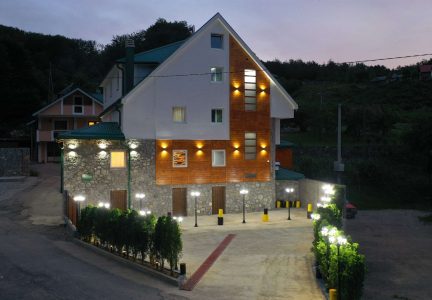 Dear Sir/ Madam,
Thank You in advance for Your time and attention.
Let us introduce You to the offer of the Dream House Hotel.
Hotel "Dream House" is situated only 1 km from the city center, an ideal place for rest and relaxation.
Our services are based on Bed & Breakfast principle. The hotel has 15 luxury accommodation units: – 1 economic twin room – 1 deluxe triple room (queen size bed + bed for single use) – 5 standard double rooms with queen size beds – 5 deluxe double rooms with queen size beds – 1 duplex apartment (2 bedrooms – 2 queen size beds + 2 beds for single use) – 2 duplex apartments (2 bedrooms – 2 queen size beds + 1 bed for single use)
Which they possess all what you need for complete comfort and absolutely enjoyment (LCD TV with cable and satellite channels, telephone, mini bar, personal safe box, hairdryer, central heating, Wi-Fi and other amenities).
In periods from 7-10 o 'clock in our restaurant is served very rich and healthy breakfast with delicious meals from our national cuisine, which can be customized at guests' convenience.
Dream House Hotel Hausmajstor D.O.O.
On request additional meals can be arranged for bigger group of the guests.
Our very pleasant restaurant can be used as congress room, smaller business conventions area and it is ideal place for organizing business meetings.
Our offer is completed and circled with room service. Also we offer variety of business service ( fax, photocopier, scanner etc..)
We have a free parking place with cameras and of course we can provide a chargeable shuttle service from the nearest airport to the hotel and vice versa.
In addition to the listed of hotel offers and services, which is not in our amenities, we can organize various excursions with local agencies: rafting, mountain climbing, horse riding, …But we have to emphasize that this is not our service, we would only help guests to have a great holiday experience.
The price list is enclosed to this email and please note that we offer 10 % agency commissions, while for group reservations we have special offers.
A detailed description and photos of the hotel will soon be available on our website www.dreamhousehotel.me
In the meantime please visit our Facebook or Instagram page.
Looking forward to our future cooperation.
Gornji Pazanj bb, Kolasin 81210, Montenegro
PIB: 02681978 +382 69 188 138
PDV: 30/31-06808-7
+382 20 863 300 +382 20 863 301 +382 20 863 302
CKB: 510-18415-85 +382 20 863 303 +382 20 863 304
Societe Generale: 550-11897-88
www.dreamhousehotel.me
Komercijalna banka: 525-6274-40
dreamhousehotel@hausamajstor.me
reservationdreamhouse@gmail.com
dreamhousehotelkolasin
Dream House Hotel – Kolasin