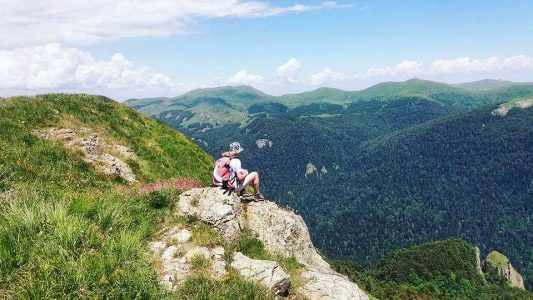 According to many people, Bjelasica is the most beautiful Montenegrin mountain. It is located in the heart of Montenegro, i.e. in the central-continental part of the country. It is 30 km long.
It is bordered by two large rivers – Lim and Tara on one side, and Ljuboviđ and Lepenica on the other. It belongs to Municipalities of Kolašin, Mojkovac, Bijelo Polje, Berane, and Andrijevica.
It is suitable for hiking, and even its highest tops are accessible. Also, it is abundant with forest, as well as running water.
In contrast with other mountains in the region, Bjelasica has volcanic origin. That is why it has green summers and white winters. And while on other mountains waters sink, here they remain on the surface, flowing down in multiple streams and rivers. The most beautiful of which is Biograd River, flowing into Lake Biograd. Bjelasica's highest top is Crna Glava, around 2139 m a.s.l.
There are active katuns (katun is a small mountain village made of huts inhabited by shepherds in the summer) on Bjelasica today, and traditional huts are a true challenge for tourists.
If you want to experience an adventure on the mountain, this is the perfect spot for you. This mountain's top are more than 2000 m a.s.l., and represent a true challenge for mountaineers.
Bjelasica is attractive for hiking, mountain cycling, jeep tours, and especially for botany enthusiasts in the spring months, when it is covered with flowers. It is an ideal area for families, where children can enjoy the snow (it is possible to find it in some spots up until August), ride a horse, or simply pick flowers.
Bjelasica-Ridges
Bjelasica is consisted of four ridges spreading in the northwest–southeast direction.
The First Ridge: Kobilja Glava-Miljevača-Bikova Glava-Ključ
This ridge overlooks the valley of Tara River (the entire upper flow), Kolašin, Sinjajevina, Morača Mountains, Komovi, and Ostrvica. Competitions in Nordic skiing used to be held on this ridge. There is a ridge on both sides, although it is well known that Bjelasica is mostly flat, and round. The highest top of this ridge is Ključ (1972 m a.s.l.).
The Second Rigde: Donji Lumer – Gornj Lumer – Goleš – Lisa – Troglava – Zekova glava. The ridge spreads between River Biograd, and Mušovića River. It is less high than the previous one, but it has a couple of high tops; Troglava (2075 m a.s.l.) and Zekova glava (2117 m a.s.l.).
The Third Ridge: Laništa – Razvršje – Svatovsko groblje (The Wedding Cemetary) – Crna Lokva – Crna Glava.
The ridge is located between Bjelojević River on the north and River Biograd on the south, and there is the highest top of Bjelasica – Crna Glava (2139 m a.s.l.). The central part is called Šiška Mountain. A part of this ridge, above Lake Biograd, is very well known for its steepness, and it is called Jarčeve Strane (Billy Goat's Slopes).
The Fourth Ridge: Mučnica – Marinkovac – Bjelogrivac – Strmenica. The northernmost mountain ridge is located between Ravna River and Bjelojević River, with Strmenica as the highest top (2122 m a.s.l.).