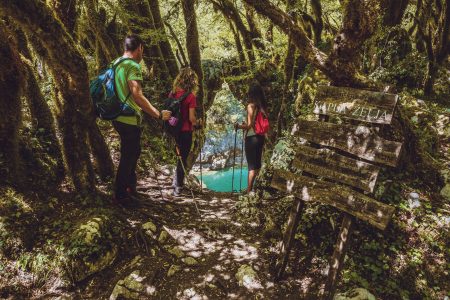 In the heart of Montenegro, in its central area, there is another small river and another magnificent canyon – Mrtvica River Canyon. Mrtvica flows in Morača River in a small village called Međuriječje. This is how the two river canyons form one unit, and their steep edges are heaven not only for canyoning aficionados, but for alpinists and sports alpinists as well. Međuriječje is located on the 38th km of main road Podgorica-Kolašin. Mrtvica River flows from underneath Sinjajevina Mountain. Up to its confluence with Morača River, it gathers water from mountain springs which make a large stream of water, Morača's largest tributary, with numerous cascades and waterfalls, as well as smaller beaches. It flows between mountains Sinjajevina and Maganik. Maximum gorge height is 1100 m, and length 8.5 km.
There is also a stone bridge on Mrtvica River made by king Danilo II, originating from 19th century. he made in in honor of his mother who was born in this area. King Danilo's bridge and Bijeli Nerini Spring, whose beauty will take your breath away, are certain attractions of this canyon.

One of the most beautiful and interesting spots in the canyon is The Wish Gate, a place where, according to a legend, a fairy from Maganik Mountain fulfills wishes. In order to get your wish, you need to make a wish in complete silence and throw a rock in the river. The wish must be pure and it cannot be to anyone's damage, otherwise, you can cause fairy's wrath.
This river's water is rich with fish, especially trout and grayling. In Mrtvica River Canyon there are numerous places worthy of attention, and not everything can be remembered or described with words. You should go through this magnificent canyon and enjoy another miracle of Montenegrin nature. For excursion through Mrtvica River Canyon you don't need any additiona equipment, just comfortable shoes and good company. So invite your friends and head for an interesting journey.