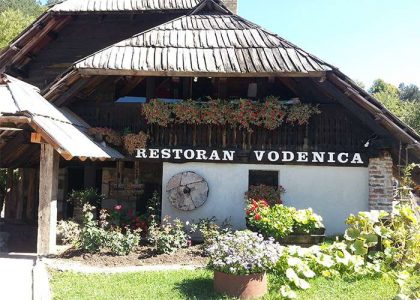 Timidly hidden in small town of Kolašin, on the shore of a fast river, Vodenica Restaurant will open its door for you.
You will feel it instantly, it is embedded in every detail you look, the warmth and hospitality of the hosts, and you will know – this is a place where you can eat well.
This restaurant is not only a restaurant. It is most certainly the warmest place in the winter and the coldest place in the hot summer. Here you can see many things from the past, from the houses of our grandmas, which we remember only from photographs.
There is a staircase leading to the attic, where you can hear the sound of silverware, and clicking glasses next to the old cabinet. Two wheels of a watermill, grinding their stories and creating a stunning silence. There are conversations with coffee. The smell of homemade bread.
There are the best pršuta and homemade cheere. There is cicvara. And kačamak. There is the best strudel you will eat, however hard you tried to make it at home. This place is yours from the first encounter.


The place you always come to on purpose and from far away. And you know that you are always welcome and that there is place for you. You will know this is your house too.
The house where the door is always opened.