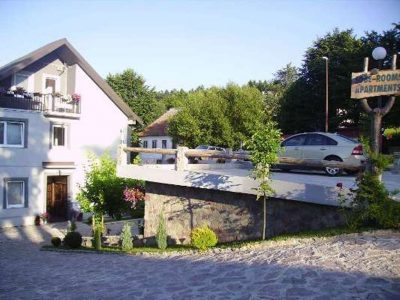 Our private accommodation is located in town center; therefore all important facilities are in the 200 m radius. Our accommodation has 6 units: 1 studio apartment, 1 triple room, 2 double rooms with large bed, and 2 double rooms with single beds. The studio apartment has a large bed, and a sitting area with a couch and armchair which can be made up for sleeping, as well as an extra bed. Next to the studio apartment is a double room nr. 2 with large bed, therefore they can be rented separately or together as a luxurious suite with 2 bathrooms. They are located in the ground floor and have a separate entrance.
The triple room number 21 is located in the attic; it has one large bed and one single bed.
The total capacity of our accommodation is 12-15 persons. Each room has a separate bathroom, TV, central heating and Wi-Fi (which is free of charge). The rooms are maintained daily. Our accommodation has a small restaurant of closed type, where guests are served breakfast.
The restaurant hall is also suitable for seminar organization for smaller groups. In the summer, there is a pretty garden in front of the restaurant, very pleasant for spending time in. All guests are provided with free parking. In the winter we have a storage room for ski equipment, and in the summer indoor bike parking.
Bjelasica is 9 km away, Ski center 25 km away, and there is a ski slope for all ages and skier categories. During summer, in cooperation with tourist agencies, we organize rafting on Tara River, photo safari, bike rides and mountain climbing for our guests on beautiful mountains surrounding Kolašin. Also, Biogradska Gora National Park, with beautiful Lake Biograd, is located 19 km from us.
A famous Botanical Garden, founded by Mr. Daniel Vincek, is located 300 m from us. There you can see the entire flora of this area. Also, at guests' request, we organize transportation, and transfers from airport and vice versa.
Address: Milivoja Bulatovića br 4
Telephone number: 067/ 401- 416
E-mail: ljubisa.r@t-com.me