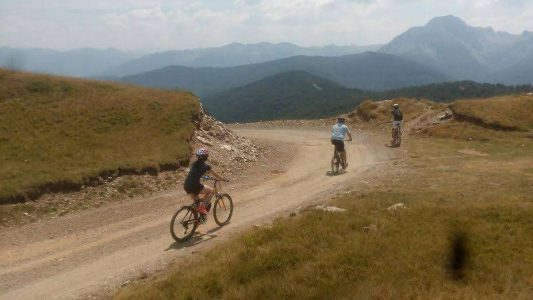 Kolašin-Lipovo – 15 km in one direction
Going through villages, we can enjoy the surreal experience of this region, scenery of Plašnica River, architecture of traditional building, orchards, gardens, the view to Morača Mountains, Sinjajevina and Bjelasica. During breaks, you can pick up forest fruits, medicinal herbs and tea.
This tour, as all others, starts at Trg Borca. From the town center, we will head towards the town exit through a street called Mojkovačka. We continue moving towards the end of the street where we will get to a bridge crossing Tara River passing the town itself. As we cross the bridge, we will go onto the main road which we will follow only for 700 m and turn left on the narrow, but very nice asphalt road through Drijenak. Going through this settlement, the road takes us further towards Blatina Village. At this part, the terrain is diverse, very interesting, but we need to be careful, because the road is very narrow and not very visible. As we continue, we will reach a short macadam road, which will connects us with main asphalt road through Lipovska Bistrica, then Gornje Lipovo and Sinjajevina, which is our final goal.
After beautiful areas through the village and asphalt road, we will come to a macadam road and an ascent which leads up to Vratlo Passage. The road is in good condition and it requires good physical condition and appropriate equipment, i.e. an MTB bike. This part of the trail will amaze everyone, both beauty of the mountain ahead of the driver and the road twirling through steep crags. At Vratlo passage, all painstaking ascents are over. This is where the mountain gives up and you are faced with a long ride through wavy areas of Sinjajevina. From here, roads diverge into multiple directions, and you can choose between continuing your adventure and returning to Kolašin. 
Trail Lenght: 21 km
Ascent: 751 m a.s.l.
Elevation: 949 m a.s.l, min; 1700 m a.s.l. max.
Time to ascend: 2 h