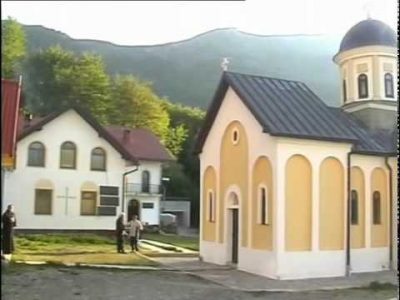 Orthodox monastery Ćirilovac in Kolašin could easily be considered the youngest monasteries in the area of Montenegro. The history of this monastery brings us back to the last decade of the 20th century. Archimandrite Father Joil Bulatović has become known as a long-standing keeper of Saint Vasilije Ostroški's reliquary, as well as a disciple of famous priest Father Tadej from Vitovnice Monastery. In 1995, under Bjelasica Mountain, he started building the main building of the monastery and monastery dormitory. The main building is dedicated to Saint Cyril and Methodius, and people know it as Ćirilovac Monastery in Kolašin. 
Ćirilovac Monastery was consecrated on 19th September 1999 in Kolašin. It is particularly interesting that this, in the least unusual monastery, is actually a female monastery. In addition to that, in 2004 the Monastery got a temple, i.e. a chapel dedicated to The Transfiguration of Jesus, located at the top of a nearby mountain, at the elevation of 2000 meters. As aforementioned, what makes this monastery interesting is Father Joil Bulatović. There are testimonies of healing people whom stayed in the monastery and had the opportunity to visit and talk to Father Joil, and have prayers read for them.
Father Joil was born in Rečine on 20th July 1940. Having graduated from Faculty of Natural Sciences, he worked as a teacher in Danilovgrad High School.
Ćirilovac Monastery Address is: Monastery of Saint Cyril and Methodius – Ćirilovac, Rečine 81 210 Kolašin, Montenegro.
If you wish to contact the sisterhood of the monastery, or the Prior Father Joil Bulatović, this is their telephone number +382 67 307 349.